Seeing your little one under the weather is always a bummer, but a reliable baby thermometer can help you gauge the severity of the illness and let you know when to take action. With many models on the market, we can't help but question 'Which works best?' We've unearthed the top best baby thermometers for you to buy in 2021.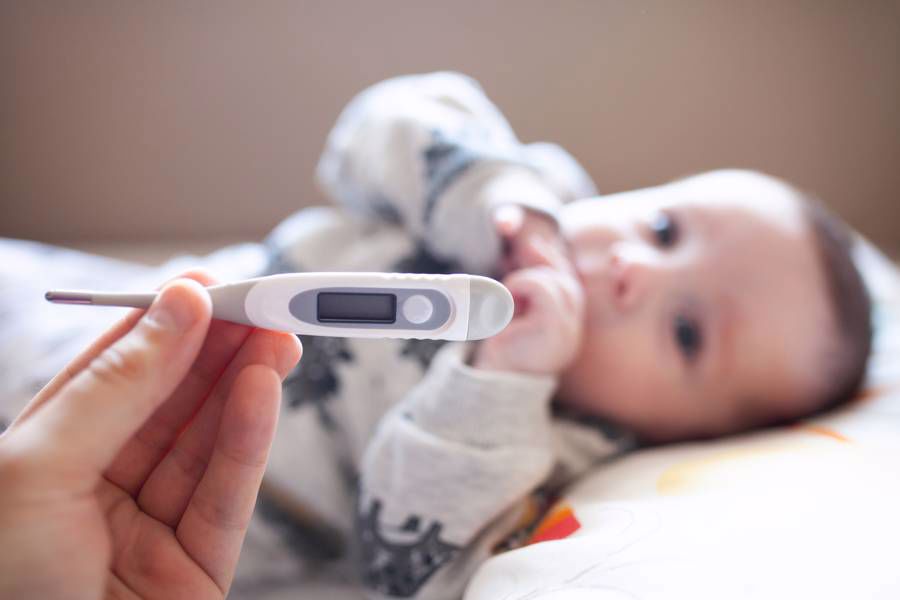 New parents quickly realise that kids catch way more colds than expected after having a newborn. Now more than ever, during the pandemic, it's essential to be able to take your child's temperature accurately in just a few seconds when needed. As the newborn's parent, a thermometer can gauge the illness's severity by letting you know if they have a fever and whether a call to the GP is needed. What's more, some body thermometers, while enabling fairly accurate results over repeated readings, have additional features like a bath- and room-thermometer modes, making parents' lives even easier.
Since there are many different types of thermometers and options available on the UK market, you might be wondering what the best thermometer for your baby is? It's worth doing your research and investing in a decent baby thermometer for when the time comes, and also for the sake of reducing unnecessary cost - who wants a handful of products when it comes to thermometers? We believe you only need the most reliable one. After reviewing expert advice from the NHS and trawling through real parents' recommendations in numerous forums, we have sourced the best baby thermometers for you to buy in 2021.
Body thermometers
What type of baby thermometer is best for taking your baby's temperature? The NHS advises that a digital thermometer can give an accurate reading if the manufacturer's instructions are followed carefully. There are also other thermometer types that you can buy from pharmacies, most supermarkets and online retailers; Ear (tympanic) thermometers and non-contact thermometers. According to the NHS, strip-type thermometers that you hold against the forehead might not be the best option because they show the skin's temperature rather than the body. It's worth noting that the NHS experts have also advised against using an old-fashioned glass thermometer containing mercury. These can break and release highly poisonous mercury.
Ear thermometers
A digital ear baby thermometer uses infrared rays to measure the temperature inside the ear canal.
Pros: They are super quick, easy to read, and are generally comfortable for children and adults.
Cons: Because babies under six months of age have tiny ear holes, parents may have difficulty placing the thermometer correctly in their ear canal. They're more expensive than "traditional" digital stick thermometers.
1. Braun ThermoScan7 In-Ear Thermometer with Age Precision
Buy from: John Lewis (£44.99), Amazon (£39.31), Boots (£49.99)
This is a reliable ear baby thermometer from a premium brand that is raved by parents and professionals alike. This model has continued its parent company's former glory with its pre-warmed tip for comfort and accuracy, smart memory that stores your last nine readings, and age precision technology.
Its unique age-adjustable fever setting considers that a fever's temperature varies with age, allowing it to better alert parents to an actual fever.
You can keep track of previous readings using the handy storage feature. The colour-coded results marker makes it easy to interpret results, especially at night-time using the back-lit screen. One improvement we'd suggest to Braun would be to add back-lit buttons to the next model to make it more convenient for use during the night.
2. Tommee Tippee Closer to Nature Digital Ear Thermometer
Buy from: Asda (£ 37.99); Boots (£39.99)
This easy-to-use digital ear thermometer from the Tommee Tippee's Closer to Nature range claims to give an accurate reading on its LCD in just one second. Its ear probe is also suitable for newborns.
It's less gimmick than Braun Thermoscan7 in the ear thermometer section, with no fever adjustment by age, back-lit display, or colour-coded readings. Still, it does store up to nine readings so you can see if your little one's temperature is rising or falling and comes with a better price. The pack also comes with eight replacement hygiene covers.
Forehead/Non-Contact thermometers
Like in-ear thermometers, they also use an infrared scanner. But forehead thermometers measure the temperature of the major vein, the temporal artery, in your forehead.
Pros: Non-contact thermometers are non-invasive and read temperature super fast.
Cons: They are more convenient but also more expensive, and sometimes they are less reliable in accuracy than digital thermometers.
3. Tommee Tippee No Touch Forehead Thermometer
Buy from: Amazon (£34.99)
The Tommee Tippee No Touch has a nice design plus a few extra functions, which makes it a good choice if you're looking for a handy baby thermometer.
Just switch it on, hold the scanner up to 4cm away from your child's forehead, and a temperature reading will show on the LCD panel in two seconds. It can record previous temperatures up to 25 times and alert you when your baby is too hot by using a fever alert system.
It's a big plus that you can use this to test your babies' temperature and food, milk, and bathwater, as long as you position it from a 4cm distance.
4. Braun No Touch and Touch Forehead Thermometer with Age Precision
This thermometer gives a temperature reading in just a couple of seconds through both touch and no-touch technology, up to 5cm away. Most importantly, in silent mode (which means no beeps when it displays readings), this clever forehead thermometer from Braun is perfect for reading a sleeping child's temperature. It is a versatile one that is quick and easy to use for children of all ages. There's also a positioning guidance system that helps ensure proper position and correct readings, so less chance to mess it up!
This model allows you to switch between body temperature and surface temperature modes fairly easily. The latter is useful for checking milk, bathwater and food.
5. Boots Non-Contact Thermometer
Buy from: Boots (£39.99)
Checking a wriggling baby's temperature can be difficult, but this reliable little gadget makes it quick and easy. Boots Non-Contact Thermometer allows you to get fast and accurate temperature readings. Gently push aside the wisps of hair from your baby's forehead and wait for the smiley and sad face symbols to appear on the machine's illuminated display.
You can also measure your baby's bottle, bath water and room temperature with it. Its impressively strong built-in memory stores the last 60 readings for you.
Digital stick thermometers
A regular digital thermometer uses electronic heat sensors to record body temperature. It can be used under the tongue, in the armpit or the rectum. The NHS recommends always using the thermometer in the armpit with children under five years.
Pro: They are the least expensive type of thermometers on the market. They usually have a flexible tip for comfort.
Con: A digital thermometer takes longer to show results and beeps once it has the read, which might wake a sleeping baby.
6. Braun Age Precision Digital Stick Thermometer
Buy from: John Lewis (£13.49), Boots (£11.9)
This rather "traditional" digital stick thermometer offers parents an affordable, simple to use option. Made by the market leader Braun, the #1 thermometer brand chosen by UK doctors, it's small, portable. It has all the essential functions you're looking for in a digital thermometer - including the age precision technology.
Push a button and select your child's age before each use. The thermometer will give a clear colour-coded temperature reading that shows results clearly from green (normal), yellow (higher than usual), to red (very high). While Braun recommends probe covers for oral readings, this digital thermometer is used under babies' armpit without filters. You can easily clean it with soap and water or disinfect it with rubbing alcohol afterwards.
7. Tommee Tippee 2-in-1 Thermometer
Buy from: Amazon (£7.79), John Lewis (£7.79, currently out of stock)
This small, lightweight and waterproof digital thermometer is used both under the tongue or underarm. Its soft and flexible tip means you don't have to worry about wriggly babies snapping it off. It does require a longer 8 seconds to display reading which is typical of most "traditional" digital thermometers.
Multipurpose body thermometers
8. Brother Max 3-in-1 Digital Thermometer
Buy from: Amazon (£17.99)
Ideal for all the family, The Brother Max 3-in-1 Digital Thermometer is used to measure both body (ear and forehead) and room temperature, hence the reason why it's a multipurpose body thermometer.
It can be wall-mounted for convenience without screws and sits in its stand for measuring how warm or cold the room is in room-thermometer mode. Its screen has a back-light that enables easy read in the dark. Its energy-saving feature means it automatically turns itself on and off, giving this product exceptionally long battery life.
Using it to take your child's temperature is simple and straightforward; remove it from its stand and flip the back cover-up. The in-ear and forehand modes provide parents with more than one option so you can take your baby's temperature even when they are fast asleep or have an earache.
Bath and room thermometers
Baby bath guide: everything you need to know from frequency, bathwater depth to temperature
The NHS and Mayo Clinic suggest you can bathe your baby 2 to 3 times a week. Some parents like to clean their little one every day, which is fine, as long as you establish a routine, and both you and your baby like it. Mayo Clinic does warn that bathing your babies too much can dry out their skin.
The bath water should be no more than 8-10 centimetres deep. Make sure always to support your baby and never leave them unattended as babies and toddlers can drown in just 3cm of water if left alone. Another tip is to dip your elbow (not your hands as they can withstand higher temperatures) into the bathwater, and it should just feel the same as your body temperature, around 36-38 degrees.
However, suppose you want to ensure a more accurate and reliable temperature to avoid accidentally burning newborn babies' highly sensitive skin. In that case, a baby bath thermometer can give you peace of mind. Many new parents prefer to use a bath thermometer in the early days when they're unsure if they're getting the temperature right.
But with so many options available on the market, which ones are the best? Don't worry; we've done the legwork for you and rounded up some of the best bath thermometers worth investing in for 2021 below.
Bath & room baby thermometers
1. Tommee Tippee Closer to Nature Bath and Room Thermometer
Buy from: Amazon (£15.29)
This star-shaped baby bath thermometer is certified as a BPA-free bath toy and safe for babies to play with while floating in bathwater. It has an easy to read LCD screen that gives you an accurate reading in either Fahrenheit or Celsius, plus a warning light when the bathwater is too hot.
2. Philips Avent Bath and Room Thermometer
Buy from: Amazon white (£13.63), Amazon blue (currently unavailable), Philips (£19.00)
Philips Avent Bath and Room Thermometers come in two lovely shades: pale pink and pale blue. This floating flower not only measures the temperature of your child's bathwater but can monitor room temperature.
The leak-proof thermometer scans the temperature and gives readings in as little as 10 seconds. It's known for being one of the most accurate on the market and slightly more expensive than other models. One downside is that this thermometer only displays readings in Celsius.
3. Aycorn Digital Baby Bath and Room Thermometer
Buy from: Amazon (12.99)
Made from a single piece of sealed soft silicone, this pretty crab bath and room thermometer is toxin-free, waterproof and safe for little ones to play. Its durable design means it's less likely to flip over in the water and misread the temperature like some other design. This freestanding thermometer can be put on a shelf or unit in the bedroom in room-temperature mode, making the display easy to monitor.
Bath thermometers
4. Skip Hop Moby Floating Bath Thermometer
Buy from: Amazon (£17.99)
This adorable floating bath thermometer from Skip Hop's whale themed set isn't just a thermometer; it acts as a washcloth hook too. Its suction pads allow it to stick to a bathroom wall. Its colourful LED enables the whale to change colour to indicate if the water is too hot or "just right temperature".
5. Nuby Turtle Bathtime Clock and Thermometer
Buy from: Amazon (£10.19)
This clock-timer-and-thermometer-all-in-one cute little turtle comes in handy when you want to monitor how long you've been having bath time fun with your baby. The Nuby Turtle Bathtime Clock and Thermometer's easy-to-read display flashes and beeps when your baby's bath water is too hot and stays silent when the water temperature is ideal.
6. Mothermed Baby Bath Thermometer and Floating Bath Toy
Buy from: Amazon (13.99)
This slim, lightweight baby-friendly bath thermometer was designed with a babies' little hands in mind. The Mothermed Baby Bath Thermometer automatic shut-off after 30 minutes and has 12-month battery life. The simple display tells you whether your baby's tub water is "cold" or "hot" while measuring the water temperature every 5 seconds. However, customer reviews say there is an issue of cover instability, and it's Fahrenheit display only.
Room thermometers
Why do you need a thermometer to check your baby's room temperature? Overheating is associated with an increased risk of Sudden Infant Death Syndrome (SIDS). The NHS points out that babies can overheat because of too much bedding or clothing or because the room's too hot. A digital room thermometer can help you keep the room at a temperature that's comfortable for you and your baby at night (16°C~20°C, about 18°C is ideal).
7. The Gro Company Gro Egg
Buy from: Amazon (£16.00)
This easy-to-read digital room thermometer recommended by The Lullaby Trust, the UK's leading safer sleep charity, has a clever egg shape and sits nicely on a bedside table or shelf. It also changes colour depending on the room's temperature, making it easy for you to tell at a glance whether you need to adjust your baby's bedding or clothing.
The company claims it's accurate to 1°C when it reads the room's ambient temperature, making it much more sensitive than many other thermometers on the market. However, it does require being connected to a power source all the time.
We've listed some of the best baby thermometers on the market so take your time when making your final decision.
While you're here why not sign up to the Club for the best discounts on everyday baby items and the chance to win baby freebies such as a baby box?
Check out our other "best" articles on the baby carriers and booster seats.
Also, check other ways to get baby free samples.
Articles shown are a mixture of informative pieces, anecdotal accounts and professional advice from our panel of Bloggers, Writers and Experts. The views and opinions expressed in these articles are those of the authors and do not necessarily reflect the official view of this site.